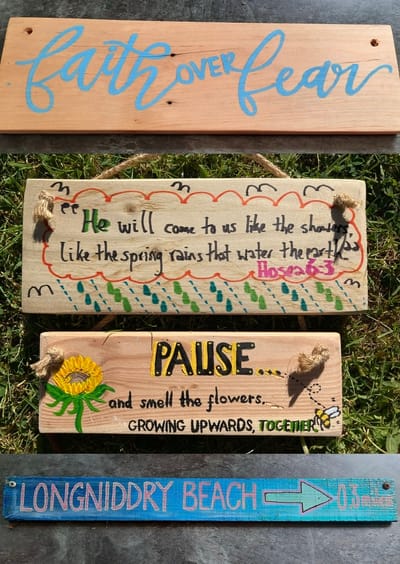 Take part in Longniddry Parish Church's exciting series of gardening projects for 2021.
Currently, Longniddry Primary and Preston Lodge High School are busy raising
sunflowers
from seeds. Others have joined them and already are enjoying seeing the plants grow taller every day!
Get involved, get close to nature and have fun welcoming summer to your garden and home!
You have your wooden sign, now what?
We would like you to decorate your sign for your own garden/home or to give to someone else. There are holes for you to either screw the sign into place or use the twine to hang it. If you like, how about putting it somewhere in your garden/window where your neighbours could see it and enjoy it?
You can decorate it with pens, paint, craft items, found natural objects, whatever you like. Once you have decorated it, it will need at least two coats of clear varnish to withstand the weather outdoors.
You can write the message of your choice. For example, it could be about nature or summer, or it could be a bright, inspirational message. See the examples in the picture for some ideas.
We would like you to take a photo of your creation and email it to us at elchoartspace@btinternet.com by
Sunday 11th July
and we will display them in our online art gallery.
Pumpkin Growing:
With thanks to Balgone Estate and Kilduff Farm for their donations of seeds and plants, and to Redhouse Nurseries for the plant pots.
Visit Kilduff Farm's website and social media platforms to find helpful instructions and advice for growing your pumpkin, especially their
Pumpkin Grow Along videos
on Facebook:
https://www.facebook.com/KilduffFarm/
https://www.kilduff.co.uk/pumpkin-plants-at-the-ready