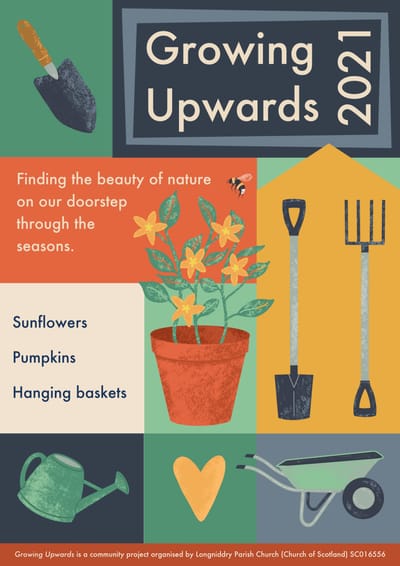 Welcome to
Elcho Artspace
, an online gallery created by Longniddry Parish Church and based in Elcho Road, Longniddry. We are a village in the county of East Lothian on the beautiful east coast of Scotland. Over the years Longniddry has shown a strong commitment to visual arts, principally through its fondly-remembered Christian Aid charity art exhibition.
Launched in July 2020, this website actively encourages people of all ages to explore and share both creativity and spiritual insight through art. Our contributors can be from anywhere, whether nearby or around the world.
Growing Upwards 2021
Take part in Longniddry Parish Church's exciting series of gardening projects. See our "GROWING UPWARDS" page for full details (scroll to the foot of this page or click the tab from the menu options above).
Gallery instructions:
Instructions on how to enter and move around the gallery are found in the "HOW TO ..." page.
You are warmly invited to submit your pictures to Elcho Artspace for many of our exhibitions. Look for the
* NOW OPEN FOR SUBMISSIONS! *
label below. Your pictures should be scanned and saved in JPEG or TIFF format, then sent via e-mail to the address below (rectangular or square only please).
Shows are staged periodically to reflect the unfolding seasons. Our gallery is something of a changing room, so even in the course of an exhibition it's never too late to submit your artwork.
Would you like to get involved? No matter how old or how young* you may be, send your JPEGs to Elcho Artspace at:
elchoartspace@btinternet.com
* Our youngest exhibitor so far is 13 months old!
*NOW OPEN FOR SUBMISSIONS*
CURRENT EXHIBITION:Growing Upwards 2021 (from 20th August 2021)
An exhibition of photographs of sunflowers, pumpkin plants and wooden signs from the gardens of Longniddry and beyond. This is a rolling exhibition to please do continue to email your photographs as your plants grow and flower.
COMING UP:
Further exhibitions tied in with "Growing Upwards". More soon!
This website is owned and operated by Longniddry Parish Church (Church of Scotland): SC016556, presenting curated exhibitions staged by the congregation and our community friends.In submitting your artworks to the site you are giving permission for Longniddry Parish Church to exhibit these images on www.elchoartspace.art . This community facility is offered free of charge and with no payment to participants.Submissions must be contributors' own original works, with no copyright conditions attached to their use on www.elchoartspace.art .Please note that www.elchoartspace.art is an open website allowing unrestricted access to internet browsers from around the world. With this in mind, photographs portraying people will not be displayed and so should not be submitted.

Longniddry Parish Church will not sell any submitted images to third parties, though such images may be distributed for publicity or other gallery-related purposes. If in doubt, please use the contact facility to raise any issues of usage.Elcho Artspace is delighted to acknowledge the outstanding personal service provided by Peter and Lily Worrall of the New Zealand-based virtual gallery designer, Exhibbit (www.exhibbit.com).